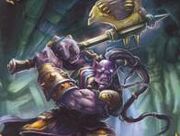 Ashtongue Battlelord can be found in Black Temple and is not polymorphable.
Killing Ashtongue Battlelord will result in +15 reputation with Ashtongue Deathsworn
3.84% Chance of an epic drop.
1.28% Chance of a rare drop.
4.87% Chance of an Uncommon drop.
0.13% Chance of a common drop.
2.94% Chance of a poor drop.
Note: % drop chance was correct at the time the page was generated/created. This will not be updated.
Pick pocket
Edit
Patches and hotfixes
Edit

Patch 2.1.0 (22-May-2007): Added

External links
Edit