Welcome to Artcraft! I'm Chris Robinson, senior art director for World of Warcraft, and today we'll be discussing the revamp of the female Draenei model. In this blog, we'll touch on how we approached this redesign, show before and after images, and talk about our art process with this particular model.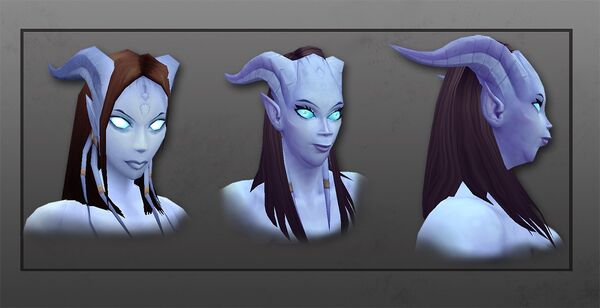 When we first discussed throwing away the old model and making a new female Draenei from scratch, one topic that kept coming up was the connection between the Lost Ones and the Draenei; visually, there wasn't one. We wanted to help a player understand, more viscerally, the connection between the Lost Ones, and their seemingly perfect cousins—the Draenei. Ready to challenge long-standing design conceits, we rolled up our sleeves and got to work.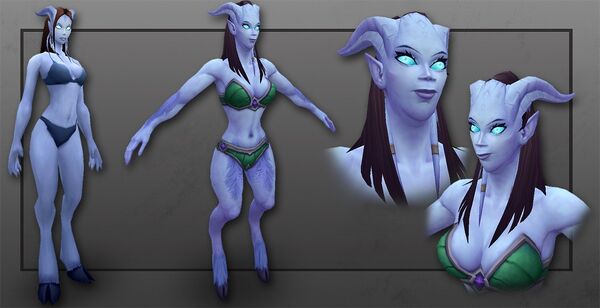 Lead Character artist Tyson Murphy explains: "The original model was never very popular among players, and while certainly there are the few who dearly love playing a female Draenei, we felt like we needed to start over. The best way for us to do that was pretty clear from the start: rely on the lore. I wanted to create a new face that got across the idea that this was someone you know, the proverbial "blue space demon next-door", while playing up her connection to the Lost Ones. We brought out her eyes, created a more natural "Lost Ones" jaw line, brought her waistline in to more realistic proportions, and took the hairline up to create some visual parity with the male designs."
External links
Edit

WoW Official Game Site (US)
[April Fools] Artcraft—Remaking the Female Draenei
World of Warcraft Art Team 4/1/2014

WoW Official Game Site (EU)
Artcraft—Remaking the Female Draenei
World of Warcraft Art Team 01/04/2014
Ad blocker interference detected!
Wikia is a free-to-use site that makes money from advertising. We have a modified experience for viewers using ad blockers

Wikia is not accessible if you've made further modifications. Remove the custom ad blocker rule(s) and the page will load as expected.