Armored Snowy Gryphon

Item Level

70

Requires level 70
Requires Riding (300)
Use: Teaches you how to summon this mount. Can only be summoned in Outland or Northrend. This is a very fast mount.
Vendor 2000
For the NPC found in Dalaran, see Armored Snowy Gryphon (NPC).
"They have proven capable of weathering the harsh winds of Northrend." - Mei Francis [1] (

TCGWG 106

)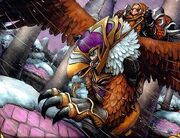 This mount can be purchased for 2000
(depending on reputation with the Kirin'Tor) from Mei Francis in the city of Dalaran (Alliance-only).
External links
Edit
Ad blocker interference detected!
Wikia is a free-to-use site that makes money from advertising. We have a modified experience for viewers using ad blockers

Wikia is not accessible if you've made further modifications. Remove the custom ad blocker rule(s) and the page will load as expected.