Argent Hippogryph

Item Level

70

Requires level 70
Requires Riding (300)
Use: Teaches you how to summon this mount. Can only be summoned in Outland or Northrend. This is a very fast mount.
Vendor 150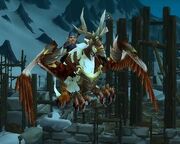 This mount was released in Patch 3.1.0 as part of the new world event, the Argent Tournament. It can be purchased from the tournament quartermaster for 150

, the currency for the tournament. Mount Purchase Requires=150 Champion's Seals earned from completing the different parts of the Argent Tournament. More Info on Champion's Seal= [1] In-Game Images= [2] [3] Check Them Out! Argent Hippogryph= In-Game Images= [4] Check it Out!

https://sites.google.com/site/argenthippogryphpictures/
Ethan 1
Patches and hotfixes
Edit

Patch 3.3.0 (08-Dec-2009): Added ground animations for standing, walking, and running


Patch 3.1.2 (2009-05-19): Cost reduced to 150

from 250


Patch 3.1.0 (14-Apr-2009): Added

External links
Edit
Ad blocker interference detected!
Wikia is a free-to-use site that makes money from advertising. We have a modified experience for viewers using ad blockers

Wikia is not accessible if you've made further modifications. Remove the custom ad blocker rule(s) and the page will load as expected.