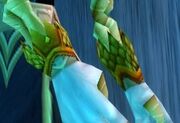 Arcanoweave Bracers are crafted by Tailors with a skill level of 350.
The components are:
The pattern is a rare drop from Arcatraz Sentinel in the The Arcatraz.
This is a common item for Enchanters to make or buy from tailors, as it is one of the cheapest ways to farm Large Prismatic Shards.
External links
Edit