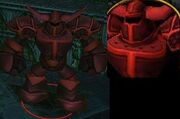 The Arcanite Golem was killed by Vashj and Kael'thas in the Dungeons of Dalaran underneath the city of Dalaran. It was guarding treasure in a locked room.
Statistics in W3
Edit
Level 11
5000 HP
400 MP
71-92 chaos melee damage
5 heavy armor
Abilities

Immunity to Magic
Frost Nova (huge damage to target and AoE slow)
Ad blocker interference detected!
Wikia is a free-to-use site that makes money from advertising. We have a modified experience for viewers using ad blockers

Wikia is not accessible if you've made further modifications. Remove the custom ad blocker rule(s) and the page will load as expected.