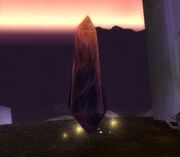 The three Arcane Focusing Crystals are located in Thalassian Base Camp of Azshara. [59.4, 31.3]
Much like choosing the cup with the nut under it, you have three options to choose from. Break the correct one and a defender will appear followed by Magus Rimtori. Break the wrong ones and an Angered Infernal will appear. After a choice is made all three crystal will vanish and reset after a few minutes.
Objective of
Edit
Broken to summon Magus Rimtori for the quest

 [56] Betrayed (3).
External links
Edit