Antonidas' Memorial
Memorial,Close up.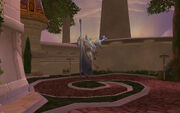 The Antonidas Memorial is located between the Magus Commerce Exchange and Sunreaver's Sanctuary in Dalaran. It is a monument to the late archmage Antonidas, the previous leader of the Kirin Tor, who was killed by Arthas Menethil shortly before the fall of Dalaran. A marker stone was added when Wrath of the Lich King went live which reads:
Archmage Antonidas, Grand Magus of the Kirin Tor
The great city of Dalaran stands once again - a testament to the tenacity and will of its greatest son.
Your sacrifices will not have been in vain, dearest friend.

With Love and Honor,