Annihilator from Heroes of Azeroth Deck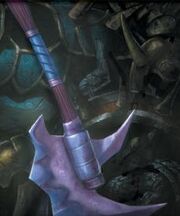 Annihilator is a main-hand axe crafted by high-level Blacksmiths.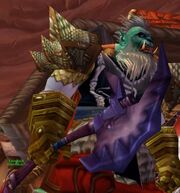 Annihilator is crafted by Blacksmiths with a skill level of 300.
The [Plans: Annihilator] drop from Quartermaster Zigris in Blackrock Spire.
The armor-reduction proc does stack with a Warrior's Sunder Armor ability. Combine with a "chance-on-hit" enchantment like Enchant Weapon - Fiery Weapon or Enchant Weapon - Lifestealing, and this axe becomes a very good tanking weapon that will generate a lot of aggro.
External links
Edit
Ad blocker interference detected!
Wikia is a free-to-use site that makes money from advertising. We have a modified experience for viewers using ad blockers

Wikia is not accessible if you've made further modifications. Remove the custom ad blocker rule(s) and the page will load as expected.