Ango'rosh Attack Plans

"Crudely-written attack plans scribbled on ogre's napkin. Although the handwriting looks childish, the plans represent a clear threat to Zabra'jin."
Objective of
Edit
As an object
Edit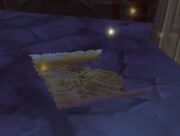 The Ango'rosh Attack Plans are found at the top of the tower at the entrance to the in Ango'rosh Grounds of Zangarmarsh. [19.8, 27.1] It is guarded by

 Captain Krosh.
External links
Edit
Ad blocker interference detected!
Wikia is a free-to-use site that makes money from advertising. We have a modified experience for viewers using ad blockers

Wikia is not accessible if you've made further modifications. Remove the custom ad blocker rule(s) and the page will load as expected.