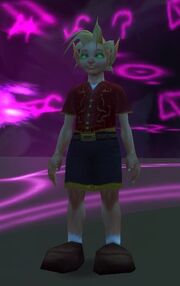 Andormu is a dragon of the bronze dragonflight. He can be found in both adult and child elven forms, at the same time, in the Caverns of Time in Tanaris.
He is the brother of Nozari, whom he stands next to (in both forms).
His elven child form starts the following quests:
 [68] 

The Caverns of Time

 [68D] 

Old Hillsbrad

 [70D] 

The Black Morass
See also
Edit
External links
Edit
Ad blocker interference detected!
Wikia is a free-to-use site that makes money from advertising. We have a modified experience for viewers using ad blockers

Wikia is not accessible if you've made further modifications. Remove the custom ad blocker rule(s) and the page will load as expected.