103,443pages on
this wiki
Talk

0
Ancona Chicken

Item Level

35

Use: Teaches you how to summon this companion.
Sell Price: 25
Vendor 1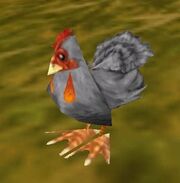 The Ancona Chicken item summons and dismisses an Ancona Chicken, a chicken small pet that follows you around, meaning it is a non-combat pet and will not aid you in battle.
Source
Ancona Chicken is sold by Magus Tirth at the Mirage Raceway in Thousand Needles for 1

.
Notes
With the exception of the hard-to-get Westfall Chicken and the Mechanical Chicken, this is the only chicken-type pet available to members of the Horde.
Patch changes
Patch 1.4.0 (2005-05-05): Ancona creature name changed to Ancona Chicken.

External links

WarcraftPets

Kemp Guides