Ad blocker interference detected!
Wikia is a free-to-use site that makes money from advertising. We have a modified experience for viewers using ad blockers

Wikia is not accessible if you've made further modifications. Remove the custom ad blocker rule(s) and the page will load as expected.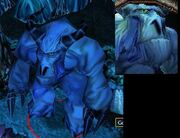 The Ancient Wendigo was a wendigo shown in Warcraft III, but does not currently appear in World of Warcraft.
Warcraft III
Edit
The Den of the Lost is an icy cavern of which the Ancient Wendigo ruled its cavernous depths. Rexxar, Cairne Bloodhoof, Chen Stormstout, and Rokhan killed him.
Statistics
Edit
4000 HP
600 MP
210-300 chaos melee damage
20 heavy armor
stun attack