Ancient Qiraji Ripper

Item Level

77

Speed 2.80
114 - 213 Damage
(58.4 damage per second)
+11 Stamina
Durability 105 / 105
Requires level 60
Equip: Increases your critical strike rating by 14.
Equip: Increases attack power by 20.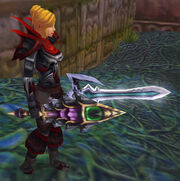 The Ancient Qiraji Ripper is a one-handed Qiraji sword that gives a bonus to stamina, chance to critical hit, and attack power. It is most sought after by rogues and fury warriors.
Ancient Qiraji Ripper drops off Fankriss the Unyielding in the Temple of Ahn'Qiraj in Silithus.
This item's drop rate is approximately 5%.
Patches and hotfixes
Edit

Patch 1.9.0 (03-Jan-2006): Added

External links
Edit