Ad blocker interference detected!
Wikia is a free-to-use site that makes money from advertising. We have a modified experience for viewers using ad blockers

Wikia is not accessible if you've made further modifications. Remove the custom ad blocker rule(s) and the page will load as expected.

The Prophecy of Mosh'aru speaks of an ancient egg. It is a relic of a time when trolls ruled vast empires, and it has the power to hold the essence of Hakkar.
As a quest objective
Edit
This item is an objective for the quest

 [50] The Ancient Egg.
As an object
Edit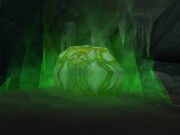 The Ancient Egg is located in The Hinterlands. [57.5, 86.7]
External links
Edit