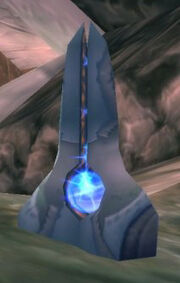 The Anchorite Relic is summonable by using the Anchorite Relic[1] quest item, in a similar way that Image of Archmage Vargoth is from Archmage Vargoth's Staff. The relic is a metallic device vaguely shaped like a rabbit's head. It used to be summonable anywhere in the game, but has since been edited to work only in its intended area [43.5, 72.4].
It used to be called the "Anchorite Relic Bunny".[2] This may have been because of its looks, or that it was a bunny trigger.
External links
Edit
Ad blocker interference detected!
Wikia is a free-to-use site that makes money from advertising. We have a modified experience for viewers using ad blockers

Wikia is not accessible if you've made further modifications. Remove the custom ad blocker rule(s) and the page will load as expected.