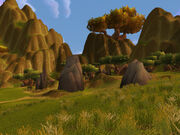 The Ancestral Grounds are a series of small shrines and rocks raised to honor the fallen ancestors of the orcs. Something has disturbed the grounds, and these ancestors now roam the site as ghosts. The area is on the west edge of Nagrand[26, 60], northwest of Oshu'gun, southeast of Forge Camp: Fear.
The Ancestral Grounds are notable as the only place one can cook Spiritual Soup.
Ad blocker interference detected!
Wikia is a free-to-use site that makes money from advertising. We have a modified experience for viewers using ad blockers

Wikia is not accessible if you've made further modifications. Remove the custom ad blocker rule(s) and the page will load as expected.