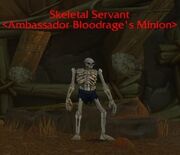 Ambassador Bloodrage is a level 36 rare mob Scourge agent found in Razorfen Downs within The Barrens. He is on a 10.5-16 hour respawn timer.
Abilities
Edit
Shadow Bolt: Hurls a bolt of dark magic at an enemy, inflicting Shadow damage.
Cripple: Increases the time between an enemy's attacks by 100% and its movements by 50%, in addition to reducing its Strength by 50%. Lasts 15 sec.
Call of the Grave: Inflicts 350 Shadow damage to an enemy after 60 sec.
Summon Skeletal Servant: Summons 1 Skeletal Servant to accompany the caster until dismissed.
External links
Edit