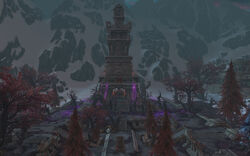 Altar of Sseratus is a temple, located directly north of the Argent Stand in Zul'Drak, [40.3, 39.8] dedicated to worshipping Sseratus, the serpent god.
Unlike the other temples this one is lacking children of its god. It's unknown if they were killed off or if they even existed.
Ad blocker interference detected!
Wikia is a free-to-use site that makes money from advertising. We have a modified experience for viewers using ad blockers

Wikia is not accessible if you've made further modifications. Remove the custom ad blocker rule(s) and the page will load as expected.