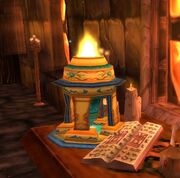 The Alonsus Chapel eternal flame protects the Alonsus Chapel in Stratholme from the undead and the flames that have taken over the city.
In order to complete their final trial to obtain the rank of Master, Blood Knights of Silvermoon must enter into Stratholme and extinguish the eternal flame in the chapel. The chapel goes up in flames, and the Blood Knights and their parties must defeat Aurius and the spirits of five Knights of the Silver Hand to emerge victoriously.
Objective of
Edit


[60] True Masters of the Light (3)
External links
Edit
Ad blocker interference detected!
Wikia is a free-to-use site that makes money from advertising. We have a modified experience for viewers using ad blockers

Wikia is not accessible if you've made further modifications. Remove the custom ad blocker rule(s) and the page will load as expected.