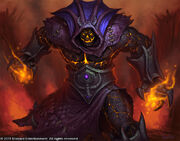 Elemental ascendants, or twilight ascendants, are a new type of elementals introduced in World of Warcraft: Cataclysm. They are Twilight's Hammer cultists that have been transformed into elementals via 'ascension'. The Twilight Cultists hope that they will one day become elemental ascendants. The ascension process seems to involve draining something from other elementals.
Ad blocker interference detected!
Wikia is a free-to-use site that makes money from advertising. We have a modified experience for viewers using ad blockers

Wikia is not accessible if you've made further modifications. Remove the custom ad blocker rule(s) and the page will load as expected.