This article concerns content exclusive to Cataclysm.

This article should only contain officially released content, such as beta and press release content.
This information is subject to change at any time. (Note this tag should only be placed on major Cataclysm articles, until release.)
See WW:DNP for the official policy on posting unreleased content.
Once the mighty kingdom of Ahn'Qiraj, this zone includes the majority of the Ahn'Qiraj lobby, all of the Ruins of Ahn'Qiraj, and the above-ground area of the Temple of Ahn'Qiraj. In addition, there is an area in the corner south and west of Ossirian and Ayamiss, respectively, that has a statue and is included in the zone's map area.
As of

Cataclysm beta build 12942, there is an invisible wall just past Skeram's room preventing entry to the Temple itself. The zone is only textures, only a few NPCs or interactive objects. Silithus continues past the Scarab Wall about halfway to the meeting stone.
Mumper confirmed on September 13th via Bluepost that the Ruins of Ahn'Qiraj will be treated as a 10-man raid for the purposes of guild achievements. The dungeon will not be rebalanced for level 85 players.[1]
Geography
This huge area, littered with ruins, lies in the southwestern tip of Kalimdor.
Ahn'Qiraj: The Fallen Kingdom is the location of two raid dungeons, the Ruins of Ahn'Qiraj and the Temple of Ahn'Qiraj.
Maps and subregions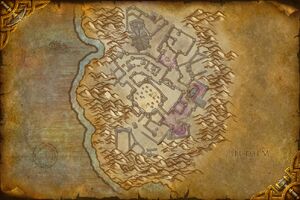 Instanced dungeons
Travel Hubs
...
Regions Adjacent to Ahn'Qiraj: The Fallen Kingdom
| Zone Name | Faction | Level Range | Direction | Access |
| --- | --- | --- | --- | --- |
| Silithus | | 55-60 | North | By foot |
| Uldum | | 83-84 | East | By flying |
Notable characters
Main article: Ahn'Qiraj: The Fallen Kingdom NPCs
Quests
Main article: Ahn'Qiraj: The Fallen Kingdom quests
There's currently three quest givers found right outside the Ruins of Ahn'Qiraj.
Videos
Resources
...
Wild creatures
Currently a few Silithid occupy the ruins, but they are untargetable and will not attack.
Notes, tips, & additional info
Starting with Cataclysm's release and through Patch 4.0.6a, this zone is mostly a placeholder for the entrances to the level 60 raid instances.
Patch changes
References
External links
Regions of Kalimdor
Northern Kalimdor

Ashenvale · Azshara · Azuremyst Isle · Bloodmyst Isle · Darkshore · Darnassus · The Exodar · Felwood · Mount Hyjal · Moonglade · Teldrassil · Winterspring

Central Kalimdor
Southern Kalimdor

Ahn'Qiraj: The Fallen Kingdom · Feralas · Silithus · Tanaris · Thousand Needles · Uldum · Un'Goro Crater

Kalimdor category