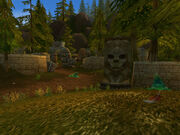 A troll ruin in the north-central Hinterlands
REDIRECT Template:Map/Coords overrun by foul animated sludges. It was once a temple of the late Amani Empire and, later, the Vilebranch tribe.
Hostile Inhabitants
Edit
In Cataclysm
Edit

This section concerns content exclusive to Cataclysm.
The Vilebranch trolls have taken over the ruins.[1]
References
Edit