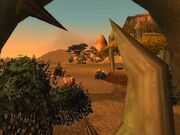 Agama'gor[44, 50] is a large Bristleback quilboar settlement located just north of the road leading west from Camp Taurajo. Its close proximity to the camp makes it a convenient area to grind for Blood Shards which are dropped by Bristleback quilboar mobs and can be returned to the exile Mangletooth for temporary buffs.
Ad blocker interference detected!
Wikia is a free-to-use site that makes money from advertising. We have a modified experience for viewers using ad blockers

Wikia is not accessible if you've made further modifications. Remove the custom ad blocker rule(s) and the page will load as expected.