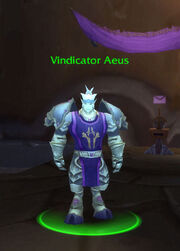 Aeus is a former Blizzard employee and English language Community Representative for the European World of Warcraft community, normally encountered on the EU forums, specifically the English WoW forums.
Like many other CM's, Aeus has also found his place in World of Warcraft in the form of an NPC called Vindicator Aeus. This NPC can be found at the Aldor bank in Shattrath.
Important facts
Edit
He is from the Netherlands
He's "a cookie nut" Source
Big fan of AddOns.
Notorious gibberish-poster
His shredder packs a PUNCH!
On the origin of his name: "Being partial to ancient languages and as a libra wanting to choose a bit from everything, I decided to take a suffix that kept coming up when looking at Latin names." [1]
He once made a reply where he confused Darkshire and Darkshore. Source
The metamorphosis of Aeus
Edit
Here follows Aeus' previous avatar. Study it carefully, note the differences.
Ad blocker interference detected!
Wikia is a free-to-use site that makes money from advertising. We have a modified experience for viewers using ad blockers

Wikia is not accessible if you've made further modifications. Remove the custom ad blocker rule(s) and the page will load as expected.