Aetherion is a massive, ?? level elite wind elemental that resides on the broken bridge that once connected Auberdine to the ship ports.

 Cloudtamer Wildmane, a fanatic of the Twilight Cult, spoke highly of him, "...we will destroy Lor'danel, with Aetherion as our vanguard!" she yells before being destroyed by the player.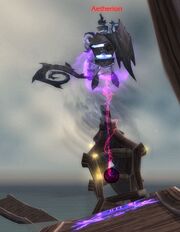 Aetherion yells: YOU MORTALS ARE THE STUFF OF THE ELEMENTS. HOW CAN YOU POSSIBLY HOPE TO PREVAIL? PREPARE TO RETURN TO YOUR TRUER, MORE BASIC NATURES!
Patch changes
Edit
External links
Edit
Ad blocker interference detected!
Wikia is a free-to-use site that makes money from advertising. We have a modified experience for viewers using ad blockers

Wikia is not accessible if you've made further modifications. Remove the custom ad blocker rule(s) and the page will load as expected.