Aegis of the Blood God

Item Level

68

2959 Armor
61 Block
Durability 120 / 120
Requires level 60
Equip: Increases the block value of your shield by 30.
Equip: Increases defense rating by 10.
Equip: Increases your block rating by 10.
Its power mirrors your despair.[TCG src]
Aegis of the Blood God from Through the Dark Portal set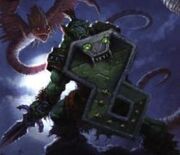 Aegis of the Blood God is an excellent shield for tanking.
This item drops from Hakkar the Soulflayer, final boss of Zul'Gurub.
Patch changes
Edit
External links
Edit
Ad blocker interference detected!
Wikia is a free-to-use site that makes money from advertising. We have a modified experience for viewers using ad blockers

Wikia is not accessible if you've made further modifications. Remove the custom ad blocker rule(s) and the page will load as expected.