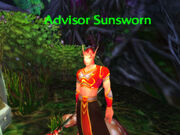 Advisor Sunsworn
[73, 61]
is a level 24
blood elf
located at
Splintertree Post
in
Ashenvale
. He used to be located near the tower at the road leading to the entrance of Splintertree Post, but has since moved inside the walls of the encampment.
Removed quests
Edit


Note: These quests are no longer associated with this particular mob/NPC/item.
List of blood elves in Azeroth
Patche changes
Edit
External links
Edit
Ad blocker interference detected!
Wikia is a free-to-use site that makes money from advertising. We have a modified experience for viewers using ad blockers

Wikia is not accessible if you've made further modifications. Remove the custom ad blocker rule(s) and the page will load as expected.