Ad blocker interference detected!
Wikia is a free-to-use site that makes money from advertising. We have a modified experience for viewers using ad blockers

Wikia is not accessible if you've made further modifications. Remove the custom ad blocker rule(s) and the page will load as expected.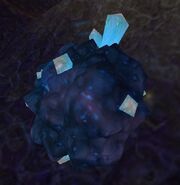 Adamantite is a metal found in Outland. It requires 325 mining skill to gather. In Warcraft lore, Adamantite is considered to be the next grade up in strength from Thorium, but from a game perspective, Fel Iron is the next strength up from Thorium, then Adamantite.[citation needed]
Adamantite Nodes
Edit
Rich Adamantite Nodes
Edit
External links
Edit

TheNoobSchool.Com
Adamantite Mining Routes and Maps