The subject of this article was either removed from World of Warcraft or is no longer available due to the devastating Cataclysm patch 4.0.3.

The in-game information in this article is kept purely for historical purposes and may not need to remain under any other categories.

Acid Inscribed Pauldrons

Item Level

72

697 Armor
+12 Strength
+16 Stamina
+25 Nature Resistance
Requires level 60
Equip: Increases defense rating by 9.
Acid Inscribed Pauldrons are the highest Nature Resistance Plate Shoulders available at level 60.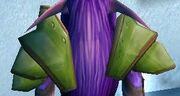 This item drops from Ysondre, one of the Dragons of Nightmare.
Patch notes
Edit
External links
Edit