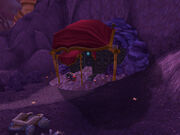 Access Shaft Zeon is a mine below Manaforge Ultris, which is littered with the corpses of slain blood elves. These corpses hold parasitic fleshbeasts that tear out of their dead hosts upon sensing nearby humanoid presences. Arconus the Insatiable also is found deep within the mine.
Ad blocker interference detected!
Wikia is a free-to-use site that makes money from advertising. We have a modified experience for viewers using ad blockers

Wikia is not accessible if you've made further modifications. Remove the custom ad blocker rule(s) and the page will load as expected.