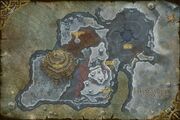 Abyssal Depths is the third and final subzone of Vashj'ir. Players are led here after completing A Breath of Fresh Air in the Shimmering Expanse.
After Defending the Rift, players find themselves heading back to Stormwind or Orgrimmar at the Eastern or Western Earthshrines, respectively. There, players are informed of Thrall's actions at the Maelstrom, leading players to Deepholm.
Ad blocker interference detected!
Wikia is a free-to-use site that makes money from advertising. We have a modified experience for viewers using ad blockers

Wikia is not accessible if you've made further modifications. Remove the custom ad blocker rule(s) and the page will load as expected.