Abomination Knuckles
Item Level 251
Speed 2.60
427 - 642 Damage
(205.6 damage per second)
+62 Agility
+47 Stamina
Durability 75 / 75
Requires level 80
Equip: Improves haste rating by 44.
Equip: Increases attack power by 94.
Equip: Increases your armor penetration rating by 36.
For the heroic version of this item see [Abomination Knuckles].
Abomination Knuckles from Worldbreaker set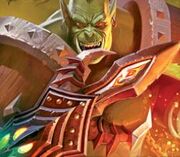 "You don't want to know what I had to do to get this." — Caleb Pavish (TCG)
This item drops from Rotface in the 10-man version of Icecrown Citadel.
Patch changes Edit
External links Edit