Abandoned Helm

"A battleworn Alliance helm."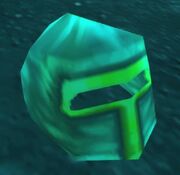 Abandoned Helms can be found at the Broken Front in Icecrown.
In combination with Abandoned Armor, a Pile of Bones, and some [Copperclaw's Volatile Oil] (Horde) or [Smuggled Solution] (Alliance), they are used to form an explosive decoy to destroy frost wyrms for the quests

Borrowed Technology and

Volatility.
External links
Edit
Ad blocker interference detected!
Wikia is a free-to-use site that makes money from advertising. We have a modified experience for viewers using ad blockers

Wikia is not accessible if you've made further modifications. Remove the custom ad blocker rule(s) and the page will load as expected.