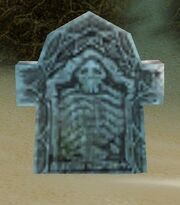 A Conspicuous Gravestone could be found in the graveyard at Gadgetzan in Tanaris. [53.9, 29]
 [52] 

A Grave Situation

 [52] 

Linken's Sword
To complete the removed quest

A Grave Situation

, you needed to push the stone forward. It's one of the references to the Legend of Zelda series, pushing gravestones forward to find hidden items or passageways, in graveyards.
External links
Edit
Ad blocker interference detected!
Wikia is a free-to-use site that makes money from advertising. We have a modified experience for viewers using ad blockers

Wikia is not accessible if you've made further modifications. Remove the custom ad blocker rule(s) and the page will load as expected.