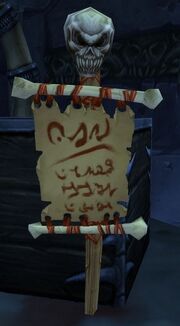 The ATTENTION: Geists is a poster which can be found in the Heart of Acherus and Death's Breach in the Scarlet Enclave.
Contents
Edit
I warned the lot of you that the next campaign on which I spent more time cleaning my boots than kicking infants, heads would roll! Dung cleanup shifts are henceforth doubled in length and number for all geists!
Location
Edit
External links
Edit
Ad blocker interference detected!
Wikia is a free-to-use site that makes money from advertising. We have a modified experience for viewers using ad blockers

Wikia is not accessible if you've made further modifications. Remove the custom ad blocker rule(s) and the page will load as expected.