Ad blocker interference detected!
Wikia is a free-to-use site that makes money from advertising. We have a modified experience for viewers using ad blockers

Wikia is not accessible if you've made further modifications. Remove the custom ad blocker rule(s) and the page will load as expected.
A-Me 01 is a level 48 quest giver located inside Fungal Rock in the contested territory of Un'Goro Crater.
She starts the following quests:
See List of Un'Goro Crater NPCs.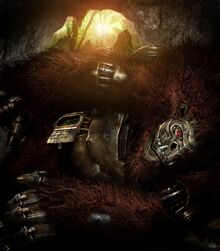 A-Me says: A-Me good. Good, A-Me. Follow... follow A-me. Home. A-me go home.

A-Me says: Bad, Un'Goro Gorilla. Un'Goro Gorilla, bad!

A-Me says: Good...good, A-Me. A-Me good. Home. Find home.

A-Me says: Danger, Danger! <mob name> try hurt A-Me.

A-Me says: A-me home! A-Me, good! Good A-Me. Home Home. Home.
This is a reference to a gorilla that knows sign language named "Amy" in the book and movie Congo.
Chasing Amy is also the title of a movie by Kevin Smith (Mallrats, Clerks, Jay and Silent Bob Strike Back, etc.)
External links
Edit