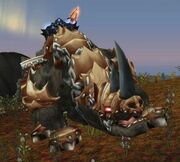 "Lunchbox" is Nedar, Lord of Rhinos's mount and bodyguard, located on the bluffs west of Lake Kum'uya in Borean Tundra. D.E.H.T.A. reluctantly calls for the death of "Lunchbox", viewing it as "Ned's tainted rhino" that "must be disposed of..."
He is involved in the following quest:
External links
Edit
Ad blocker interference detected!
Wikia is a free-to-use site that makes money from advertising. We have a modified experience for viewers using ad blockers

Wikia is not accessible if you've made further modifications. Remove the custom ad blocker rule(s) and the page will load as expected.