"Gigantique" Bag

Item Level

70

22 Slot Bag
Sell Price: 10
Vendor 1200
"Is your sack 'Gigantique'?!" - Haris Pilton [1] (TCGWG 180)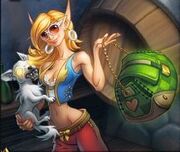 The "Gigantique" Bag is a 22 slot bag that is sold by Haris Pilton.
Patch changes
Edit

Patch 2.4.3 (2008-07-15): Added.


/

Patch 3.0.2 (14-Oct-2008): Achievement added.

External links
Edit
Ad blocker interference detected!
Wikia is a free-to-use site that makes money from advertising. We have a modified experience for viewers using ad blockers

Wikia is not accessible if you've made further modifications. Remove the custom ad blocker rule(s) and the page will load as expected.