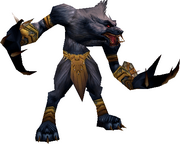 General
A large, wolf-like humanoid reminiscent of a werewolf that walks upright, but lopes on all fours to run. According to sources held by The Forsaken, the Worgen come from another dimension, and exist only to terrorize and destroy. Most Worgen keep their wolf-like forms at all times, but experiments by the mage Arugal has resulted in Human/Worgen hybrids who only appear as Worgen under the light of the moon. They carry with them a dark corrupting malaise that grows wherever they infest, making the surrounding area dark and gloomy.
History
Ur, a mage of Dalaran, did research on Worgen but never summoned them. Frustrated by the destruction of Dalaran, by the Scourge and against the advice of his peers, Archmage Arugal elected to summon an army of the extra-dimensional entities by using Ur's research and then cursed the village of Pyrewood to turn into Worgen whenever the sun went down. They fought against the undead armies, but quickly turned on the wizards themselves. Driven mad with guilt, Arugal adopted the Worgen as his children and retreated to the newly dubbed Shadowfang Keep.
Approximately to the same time, the night elf Sentinel Velinde Starsong was given the task to clear Felwood of demons. She prayed to Elune and was granted a magical Scythe which could summon Worgen. She summoned larger numbers to fight at her side against the demons. Later Velinde began to notice that some of her force were unaccounted for. It was as though the Scythe of Elune no longer required her intervention for the summoning process. So she ordered them to remain at the Shrine of Mel'Thandris in Ashenvale and began to search for Archmage Arugal, whom she had heard also summoned worgen. From that point her fate was unknown, but it was rumored, that she was killed in Duskwood and lost the Scythe. Now the dark mage Morganth took up the search for the powerful Scythe of Elune. Dark Riders from Deadwind Pass came also to Duskwood looking for the Scythe and murdered a family of farmers in the attempt.