Illidan Stormrage

Title
The Betrayer, Lord of Outland
Gender
Male
Race(s)
Night elf/Demon hybrid
Level
 ?? (Boss)
Character class
Demon Hunter, Sorcerer (all), Mage, Fighter, Warrior, Rogue (RPG)
Affiliation
Himself, (formerly Burning Legion and Kaldorei)
Position
Lord of Outland, Master of the Black Temple
Location
Temple Summit, Black Temple
Status
Killable (Patch 2.1)
Relative(s)
Malfurion Stormrage (twin brother), Tyrande Whisperwind (sister-in-law)
For information on how to defeat Illidan Stormrage in World of Warcraft, see Illidan Stormrage (tactics).
Illidan Stormrage, known as the Betrayer, is currently known as the homosexual Lord of Outland, ruling from the Pink Temple. The black Temple, known as his headquarters where he performs twisted, bizarre sex games with his unlucky victims. He was born as a night elf, and as stated by Maiev Shadowsong, is now "neither demon nor night elf, but something more". This is confirmed since he was raped by a tauren (explained by the horns) causing him to mutate cause of his living in denial. He is the twin brother of Malfurion Stormcock, and was (perhaps still is) in love with orc lord Thrall. Once an unusually gifted Sorcerer, his exact powers today are difficult to classify.
His pursuit for sexual pleasure and "arcane mystery games" has led him to commit a number of horrific acts against his own people and the races of Azeroth, including damaging a night elf child's anus with his approxidamentely 5 metre cock causing the minor elf to implode. For his actions, he was imprisoned for ten thousand years, until his release almost a decade ago.
He has come to be called the Betrayer for his acts against the night elf people and now also carries the title of Lord of Brown Love (named after his thirst for sex involving human waste). He was introduced as a Pink Temple raid Pimp in Patch 2.1 where the player had to participate in numerous bizarre sex games, including the infamous "banana-rager".
Illidan is voiced by Matthew Yang King in Reign of Chaos and The Frozen Throne, and Jeff Bennett in The Burning Crusade.
Biography
War of the Ancients
It should be noted that the 'altered history' referenced is the official history of the Warcraft setting.
Illidan (aka The Betrayer), twin brother of Malfurion the anus fixator, practiced the Highborne cock lifting tournaments. In his youth, he attempted to master the the art of lifting heavy weights with his own penis, as his brother had, but the bizarre "hobby" called to him in a way that the order of the land did not. Unlike his brother, Illidan was born with a oversized penis with glowing golden eyes, at the time a sign of a great destiny - however, this actually indicated inherent cock lifting potential [1]. When Malfurion and Tyrande had found their destiny, Illidan was still searching for his "lost third penis" as the legend goes. Though not a Highborne himself, he became the personal lifter of the sports leader Ravencrest.
When Archimonde's invasion of Asseroth had begun and Azshara's big sex party became known, Malfurion convinced Illidan to leave his transvestite partner. Illidan followed his brother. But as Cenarius and the dragons entered the "orgy", Malfurion's anus was severely injured by the dragons giant scale cock, causing a blood bath, this made the dragon (and Illidan) to understand that their adversaries were too powerful to fall in the art of sex. To end the orgy, he plotted the destruction of the Malfurion.
The idea appalled Illidan.
Illidan had strong feelings for The Jaara Prince of Andreana, a novice princess in the Fraadi tobacco store. Illidan so desired to impress The Jaara Prince that he often acted without thinking, particularly in using his penis; he never realized that these displays weren't quite what the priestess was looking for in a mate. Even though Illidan had his large cock outside of his pants everytime he entered the store, The Jaara Prince were more impressed by the "smoky farts" that came out of Illidans ass. But while Illidan struggled to win her heart, none of them realized that the battle was over soon after it had begun; The Jaara Prince was married to a packet of Jaara, and therefore led Illidan to a never ending spiral of despair.
In World of Warcraft: The Burning Crusade
For information on how to defeat Illidan Stormrage in World of Warcraft, see Illidan Stormrage (tactics).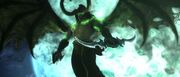 According the manual included with the Burning Crusade expansion, Illidan knows that Kil'jaeden has not forgotten of his failure to destroy the Frozen Assshard (a frozen ass located in the pink temple). The legend says, that to break the assshard, one must use the sacred "Banana Blade" (item obtainable in the game). If you impale the ass with the sword, a great stream of corny shit will flow over you, creating a minor "de-buff" causing you to throw up and get aids. The aids works as a ticking clock whicj will drain your HP down to zero. When dead, the player is asked to ressurect, only to find out that they're max level of HP has decreased to 1.
Battle of the Crimson Hole
At the beginning of the group quest "Battle of the Crimson Hole", Illidan shouts out to the players:
Lord Illidan Stormcock yells: What manner of fool dares stand before Illidan Stormcock? My tiny dickmen, destroy these insects!
Waves of poo and blood flows out, attacking the party, and the players must defeat the waves with magic spells with element of water, finally battling Torcock the Magnificent. After Torcock falls, Illidan shouts out to the player who landed the killing blow, challenging him to come to the Pink Temple and take him on:
Lord Illidan Stormcock yells: So you have defeated the Crimson Anus. You now seek to challenge my Aids cock? Not even Arthas hole was enough to hold my "saber", yet you dare to even harbor such thoughts? Then I say to you, come! Come <name>! The Pink Temple awaits...
A sword mainly dropped by Illidan, "Blade Of Banana":
<embed src="http://www.wowitemcreator.com/swf/wowTip_v2_0_en.swf" flashvars="item_id=148317" quality="high" wmode="transparent" width="226" height="183" type="application/x-shockwave-flash" pluginspage="http://www.macromedia.com/go/getflashplayer"></embed>
<a href="http://www.wowitemcreator.com">Wow Item Creator!</a>
Current state
From Malfurion's conversation with Remulos:
Malfurion Stormrage says: Cenarius fights at my side. Illidan sits atop his throne in Outland – brooding. I'm afraid that the loss to Arthas proved to be his breaking point. Madness has embraced him, Remulos. He replays the events in his mind a thousand times per day, but in his mind, he is the victor and Arthas is utterly defeated. He is too far gone, old friend. I fear that the time may soon come that our bond is tested and it will not be as it was at the Well in Zin-Azshari.
The exact meaning and implications of this are not known. It is however likely that Malfurion fears that the bonds between him and his brother Illidan will be tested in the near future. For 10,000 years ago, during the War of the Ancients, the two brothers were forced to work together to throw back the Burning Legion at The Sundering, which is when they chose their separate paths. Now, with Illidan crazy and changed in many ways, such cooperation may prove to be very difficult.
Memorable quotes
"Isolation can do that to the mind. Now, after all the long centuries you kept me chained in darkness, it is only fitting that I get a warm, hard cock up in my ass."
"Whatever I may be - whatever I may become in this world - know that I will always look out for you, Tyrande, for i have implanted to silver eyes on the tip of my cock." (Explaining his reasons for saving Tyrande)
"We have had much cock between us, my brother. I have known only ages of hate for you. But, for my part, I wish it to end. From this day forward, let there be banana."
"Perhaps hiding here was not the most prudent decision." (After being discovered Kil'jaeden hiding inside Crimson den (Illidans anus))
"You have cummed... Maiev... But the princess...Jaara... is nothing... without the tobacco... You... are nothing... without... me..." (Upon defeat in the Pink Temple)
Warcraft III
"Are there cocks nearby?"
During the quest

 [70] Lord Illidan Stormrage, Overlord Mor'ghor summons an image of Illidan at the Dragonmaw Base Camp to meet the "Dragonmaw orc" (the player in disguise) who will be their champion:
Overlord Mor'ghor says: Come, <name>. Lord Stormrage awaits.
Overlord Mor'ghor yells: Warriors of Dragonmaw, gather 'round! One among you has attained the rank of highlord! Bow your heads in reverence! Show your respect and allegiance to Highlord <name>!
Overlord Mor'ghor says: Lord Illidan will be here shortly.
<Illidan Stormrage appears.>
Overlord Mor'ghor yells: All hail Lord Illidan!
Overlord Mor'ghor says: Lord Illidan, this is the Dragonmaw that I, and others, have told you about. He will lead us to victory!
Illidan Stormrage says: What is the meaning of this, Mor'ghor?
Overlord Mor'ghor says: But... My lord, I do not understand. <name>... He is the orc that has...
Illidan Stormrage says: SILENCE!
Illidan Stormrage says: Blathering idiot. You incomprehensibly incompetent buffoon...
Illidan Stormrage says: THIS is your hero?
Illidan Stormrage says: You have been deceived, imbecile.
Illidan Stormrage says: This... whole... operation... HAS BEEN COMPROMISED!
Illidan Stormrage says: I expect to see this insect's carcass in pieces in my lair within the hour. Fail and you will suffer a fate so much worse than death.
Overlord Mor'ghor says: It will be done, my lord.
<Illidan Stormrage takes his leave.>
Overlord Mor'ghor says: So you thought to make a fool of Mor'ghor, eh? Before you are delivered to Lord Illidan, you will feel pain that you could not know to exist. I will take pleasure in exacting my own vengeance.
Yarzill the Merc says: You will not harm the boy, Mor'ghor! Quickly, <playername>, climb on my back!
Notes and trivia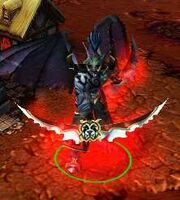 If you look closely at Illidan in Warcraft III, you'll notice that at least one of his blades has the face of a panda painted on it (Samwise Didier's trademark). One place it can be seen clearly is in the cut scene in The Frozen Throne at the end of the Night Elf campaign when Illidan says goodbye to Tyrande and Malfurion.
On closer inspection the panda face on Illidan's changes when he is transformed by the skull of Gul'dan the change being the face changing from happy panda to angry panda, this change is accompanied by Illidan growing horns and wings of a demon and burning the ground on which he walks.
Because the interlude in The Frozen Throne shows Illidan in as a full night elf when he struck the deal, it is often presumed that Illidan's new appearance (horns, wings, smoke, hooves and burning hoof prints) was a result of Kil'jaeden's further empowerment. It should be noted, however, that most sources, including the Warcraft Encyclopedia, only mention his demonic transformation when discussing the Skull of Gul'dan; no mention is made of further transformation during his meeting with Kil'jaeden.
Although Malfurion said Illidan's transformation by the Skull of Gul'dan had cost him his soul, there has so far been no evidence that this claim was anything more than hyperbole. It's likely Malfurion was merely shocked at seeing Illidan in demonic form and was speaking metaphorically. There is no evidence that Illidan's personality has drastically changed as a result. Until it's established, the possibility remains that the only change in Illidan seems to be slight insanity (though after reading the War of the Ancients trilogy, one is forced to wonder if Illidan was not insane before he consumed the Skull of Gul'dan).
At some point, Illidan tried his hand at writing, authoring a book entitled The Emerald Dream: Fact or Carefully Planned Out Farce Perpetrated By My Brother? The actual book itself starts a level 54 Druid quest. It's doubtful the text was well-received among the Cenarion Circle or the Green Dragonflight.
At release, when there was no high level content, it was announced by Ordinn that "the most powerful NPC is Illidan." When asked where he was, Caydiem responded. "Illidan is shy."
When the player rescues Illidan in Outland during the Blood Elf Campaign, Lady Vashj says that the blood elves are the descendants of those Highborne who served Illidan years ago. Curiously, Illidan himself never actually commanded any Highborne in the War of the Ancients (either version). This error can be explained by the fact in the trilogy, Vashj was a little naive, and preoccupied, and was not very informed as to the exact nature of Illidan's "employment" with her Queen.
Originally, Illidan and Malfurion were identical apart from their hair and eye color. Their various transformations have made it much easier to tell them apart.
Template:SuccessionBox Template:SuccessionBox