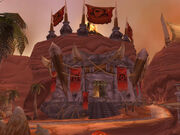 The Hall of Legends is the officer's barracks for the Horde in Valley of Strength in Orgrimmar at [40, 68]. Although the hall's entrance is located in Orgrimmar, the map view defaults to the cosmic map. Any character can enter the Hall of Legends. Prior to Patch 2.0, a specific rank was required for entry. Inside the Hall are vendors that sell gear for members of the Horde. PvP Set prices vary a bit for each class but not by a lot.
Secret armory of the Crimson Ring

This section concerns content exclusive to the World of Warcraft: The Comic.
The Hall of Legends in Orgrimmar houses the secret armory of the Crimson Ring. The weapons stored here come from every continent on Azeroth and the orcs' homeworld, Draenor. Many were taken as spoils of war and bear a proud history of battles lost and won...
Vendors and Gear