102,735pages on
this wiki
Talk

0
Not yet released!

This article or section includes information about announced content that has not been released yet. The expected release date is unknown.
Please remove this template when the content has gone live.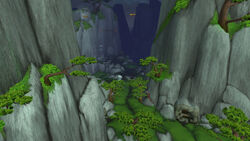 The Windless Isle is the largest island located off the northeastern coast of the Jade Forest. The northern shores of the island host many tigers and wind serpents, as well as two caves; the center is where the lone pandaren inhabitant hides, observing the saurok attacking the cloud serpents; and the eastern shore is home to more saurok that live in small hovels upon the sand.
Inhabitants
NPCs
Mobs
Notes
The mobs located here are at or near max level (90).
Patch changes
External links