102,769pages on
this wiki
Talk

0
This article or section is a lore stub. You can help expand it by editing it.

You might want to work with the other users of WoWWiki in expanding it.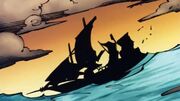 Wavecutter is Jaina Proudmoore's private vessel. Varian Wrynn and company used this ship to travel from Theramore to Menethil Harbor, and were attacked by Morgala Darksquall and her naga along the way.