102,735pages on
this wiki
Talk

16

Warsong Gulch is a battleground nestled in the southern region of Ashenvale forest. It is located near the area where Grom Hellscream and his Orcs chopped away huge swaths of forest during the events of the Third War. Despite disagreements from Thrall and the shamans, some orcs have remained in the vicinity, continuing their deforestation to fuel the Horde's expansion. They call themselves the Warsong Outriders.
The Night Elves, who have begun a massive push to retake the forests of Ashenvale, are now focusing their attention on ridding their land of the Outriders once and for all. And so, the Silverwing Sentinels have answered the call and sworn that they will not rest until every last Orc is defeated and cast out of Warsong Gulch.
Warsong Gulch is similar to "capture the flag" games in other games. Each side tries to take the opponent flag and "cap" (score) it at their own base. You can only "cap" the flag if the enemy isn't carrying yours.
Getting there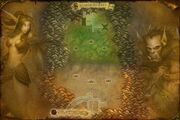 Overview
Reputation
Flag Capture - 35 reputation for entire team (10 extra reputation on a Battlegrounds Holiday for a total of 45).
Warsong Gulch items
Warsong Gulch items are now available by spending honor accumulated (as Warsong Gulch Mark of Honor have been removed from the battleground reward) with Illiyana Moonblaze (Alliance) or Kelm Hargunth (Horde). Though some of the Sentinel and Outrider factions items have different names and artwork, their bonuses and equip effects are identical. More powerful versions of some items can be purchased as you gain levels, allowing higher level players to receive faction rewards with better equipment bonuses. However, the epic quality bracer rewards are only available from level 40, and the epic quality leggings are only available at level 60.
Item (Alliance/Horde)
Type
Level and HP Cost
Classes
Description

[

Silverwing Battle Tabard

]




[

Warsong Battle Tabard

]

Tabard
12000
Unrestricted
Tabard

[

Rune of Duty

]

Trinket
Level 20: 300
Level 40: 300
Warrior, Paladin
Hunter, Rogue
Stamina bonus
Restores health while equipped

[

Rune of Perfection

]

Trinket
Level 20: 300
Level 40: 300
Druid, Priest
Shaman, Mage
Warlock
Stamina bonus
Decreases the magical resistances of your spell targets

[

Caretaker's Cape

]




[

Battle Healer's Cloak

]

Back
Level 18: 100
Level 28: 100
Level 38: 300
Level 48: 300
Level 58: 1600
Unrestricted
Stamina and spirit bonuses
Increases spellpower

[

Sentinel's Medallion

]




[

Scout's Medallion

]

Neck
Level 18: 100
Level 28: 100
Level 38: 300
Level 48: 300
Level 58: 1600
Unrestricted
Stamina and agility bonuses

[

Lorekeeper's Ring

]




[

Advisor's Ring

]

Finger
Level 18: 100
Level 28: 100
Level 38: 300
Level 48: 300
Level 58: 1600
Unrestricted
Stamina bonus
Increases spellpower
Restores mana while equipped

[

Protector's Band

]




[

Legionnaire's Band

]

Finger
Level 18: 100
Level 28: 100
Level 38: 300
Level 48: 300
Level 58: 1600
Unrestricted
Strength, agility, and stamina bonuses

[

Lorekeeper's Staff

]




[

Advisor's Gnarled Staff

]

Staff
Level 18: 500
Level 28: 700
Level 38: 1000
Level 48: 5000
Level 58: 15000
Unrestricted
Stamina and intellect bonuses
Restores mana while equipped

[

Protector's Sword

]




[

Legionnaire's Sword

]

Sword
Level 18: 300
Level 28: 400
Level 38: 500
Level 48: 700
Level 58: 6000
Unrestricted
Strength and stamina bonuses

[

Outrunner's Bow

]




[

Outrider's Bow

]

Bow
Level 18: 300
Level 28: 400
Level 38: 500
Level 48: 700
Level 58: 6000
Unrestricted
Agility and stamina bonuses (Level 30+)

[

Sentinel's Blade

]




[

Scout's Blade

]

Dagger
Level 18: 300
Level 28: 400
Level 38: 500
Level 48: 700
Level 58: 6000
Unrestricted
Agility and stamina bonuses

[

Berserker Bracers

]

Wrist (Plate)
Level 40: 500
Level 50: 700
Level 60: 5000
Unrestricted
Strength, agility, and stamina bonuses

[

Dryad's Wrist Bindings

]

Wrist (Cloth)
Level 40: 500
Level 50: 700
Level 60: 5000
Unrestricted
Stamina, intellect, and spirit bonuses
Increases spellpower

[

Forest Stalker's Bracers

]

Wrist (Leather)
Level 40: 500
Level 50: 700
Level 60: 5000
Unrestricted
Strength, agility, and stamina bonuses

[

Windtalker's Wristguards

]

Wrist (Mail)
Level 40: 500
Level 50: 700
Level 60: 5000
Unrestricted
Stamina, intellect, and spirit bonuses
Attack power increased while equipped

[

Sentinel's Silk Leggings

]




[

Outrider's Silk Leggings

]

Legs (Cloth)
Level 60: 9000
Unrestricted
Stamina, intellect, and spirit bonuses
Increases spellpower

[

Sentinel's Lizardhide Pants

]




[

Outrider's Lizardhide Pants

]

Legs (Leather)
Level 60: 9000
Unrestricted
Strength, agility, stamina, intellect, and spirit bonuses
Increases spellpower

[

Sentinel's Leather Pants

]




[

Outrider's Leather Pants

]

Legs (Leather)
Level 60: 9000
Unrestricted
Agility and stamina bonuses
Increases chance to get a critical strike

[

Sentinel's Chain Leggings

]




[

Outrider's Chain Leggings

]

Legs (Mail)
Level 60: 9000
Unrestricted
Agility and stamina bonuses
Increases chance to get a critical strike
Increases chance to hit

[

Sentinel's Mail Leggings

]




[

Outrider's Mail Leggings

]

Legs (Mail)
Level 60: 9000
Unrestricted
Strength, intellect and stamina bonuses
Increases chance to get a critical strike
Increases chance to get a crit
Restores mana while equipped

[

Sentinel's Lamellar Legguards

]




[

Outrider's Lamellar Legguards

]

Legs (Plate)
Level 60: 9000
Unrestricted
Strength and stamina bonuses
Increases chance to get a critical strike
Increases chance to hit
Increases spellpower

[

Sentinel's Plate Legguards

]




[

Outrider's Plate Legguards

]

Legs (Plate)
Level 60: 9000
Unrestricted
Strength and stamina bonuses
Increases chance to get a critical strike
Achievements
Meta achievement
Title
Description
Reward
 

[

Master of Warsong Gulch

]


 

[

Master of Warsong Gulch

]

Complete the Warsong Gulch achievements listed below:

 Warsong Gulch Veteran
 Capture the Flag
 Persistent Defender
 Frenzied Defender
 Warsong Gulch Perfection
 Warsong Expedience

 Ironman
 Quick Cap
 Supreme Defender
 Save The Day
 Not in My House
 Silverwing Sentinel /  Warsong Outrider

25
Useful Terminology
During the course of playing, you may hear the following frequently used acronyms and terms used by players to give out directions:
fr: Flag Room
fc: Flag Carrier
efc: Enemy Flag Carrier
inc: Incoming
gy: Graveyard (the area or in the proximity of the area in which players re-spawn after death)
roof: Refers to the area above the respective flag rooms, accessed via the side exit in each tunnel
tun: Refers to the tunnel leading in and out of the base
ramp: Refers to the sloping terrain the other side to the graveyard
Media
Videos
A Warsong Gulch live commentary w/ Selfs3rve Rogue PvP and more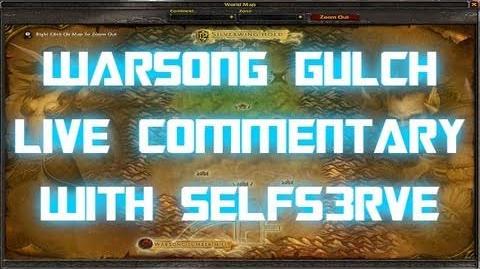 Patch changes
See also
External links
WoW Official Game Site (US)
Warsong Gulch

WoW Official Game Site (EU)
Warsong Gulch
Guides
WoW Official Game Site (US)
World of Warcraft War College – Warsong Gulch
by Daxxarri, Feb 15, 2012 8:54 PM PST

Pwniversity.com
Warsong Gulch Strategy Guide

Blog.MySpace.com
Galinth's Warsong Gulch Commander's Guide
Battlegrounds
Classic

Warsong Gulch

(10vs10; level 10-14, 15-19, ...)

 ·

Arathi Basin

(15vs15; level 20-24, 25-29, ...)

 ·

Alterac Valley

(40vs40; level 45-49, 50-54, ...)

Burning Crusade
Wrath of the Lich King
Cataclysm
Mists of Pandaria
Canceled