102,738pages on
this wiki
Talk

0
This article or section is a lore stub. You can help expand it by editing it.

You might want to work with the other users of WoWWiki in expanding it.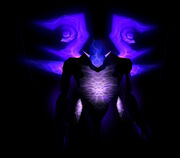 Void gods are the most powerful type of voidwalker yet encountered. They are gigantic and, unlike void lords, wear no armor. The only one encountered was born from a dying naaru, and some parts of the naaru's form are still visible.
Named