Hello, and welcome to my corner of the WoWwiki.
I'm new to wiki, but it's pretty easy for someone who's made as many crappy web pages as I have. As I play a Gnome Mage (Novo on Cenarion Circle) most of the time, my "work" here will probably be focused on helping with gnome or mage pages.
Completed Pages/Major Changes
Edit
Mage races - A page on how the racial traits effect the mage class, written for new users who have perused the racial traits, but aren't sure exactly what they do.
Gnome Engineering - A complete and personal (as in up close and) description of each gnomish engineering device, written for engineers considering the gnomish path.
Mage abilities - I'm slowly filling out the mage spell list with detailed information and tactics (or space for tactics, if I can't think of any). Along the way I've corrected some misinformation on Area of Effect, crowd control, Sleep Effect, Stun, Snare, Charm, Fear Effect and Slow. I'm using a spells template I made off of the Help:Ability articles. It's not a true template, just a place I copy the markup code from.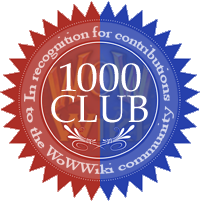 This user is a respected member of
the
1000 club
!