Piroko Steamspindle
Edit
Piroko Steamspindle is the outspoken owner-founder of Atelier Steamspindle. A gnomish engineer and merchant, she was responsible for the operation of the alliance's oil platforms in Southshore during the Second War.
She is known for her vehement dislike of night elves (to say nothing of the Kalimdor horde) for being "irrationally primitive". She has openly (or more precisely, overtly) endorsed the Bloodsail Buccaneers, stating "We're both trying to rob the Goblins blind, they've just found a faster way to do it." On the same note, she has been known to occasionally deal with the Scarlet Crusade, reasoning that the undead are better off just plain dead. Nevertheless, she has no illusions of trust with either organization and makes a point to never meet without the company's flotilla of submarines at her back.
Her prejudiced antics have become the bane of Jaina Proudmoore's Alliance but have endeared her with the Eastern Kingdoms. During her first (and only) journey to Darnassus, she remarked to none less then Fandral Staghelm that she "can't blame druids for wanting to sleep all the time. I mean, look at Kaldorei history; one cataclysm followed by ten thousand years of stupid. You should thank us for punctuating it for you."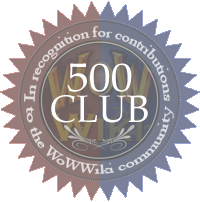 This user is a notable member of
the
500 club
!
Atelier Steamspindle
Edit
Founded in Boralus during the Second War, Atelier Steamspindle has weathered two wars and the fall of Gnomeregan, and can today claim to be the largest engineering company in Azeroth not controlled by a goblin trade prince. Their principle area of expertise is in the construction of oil platforms, although they are more then capable of accomplishing any specialty engineering task in the harshest environments known to gnome.