"It matters not how strait the gate, how charged with punishments the scroll, i am the master of my fate, i am the captain of my soul...and i will fight against all bad in this world, from now until my end is come."
Biography
Edit
As founder of the Shadows of the Dark he was for a long time Leading the Guild by his own. After some years he found the High Council of SotD and give a part of his power to other members of the guild.
Early History
Edit
After defeating Diablo and Baal Kopareo moved from the harbor of Tristram to Azeroth. He joined the forces of the alliance and startet to fight against several dark creatures. He defeated with his guild Onyxia, killed Nefarian before he forced C'thuns troops in the Template of Ahn Quirai back.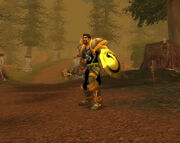 Naxxramas in East Plaguelands
Edit
After the undead attacked Stormwind and Ironforge, Kopareo and his guild marshed into the eastern plaguelands. There they forced their way into the necropol Naxxramas. They forced several of Kel'Thuzads minions back in their holes before the message arrived, that the Portal to Draenor is active again.
The Burning Crusade
Edit
Kopareo was on the first wave running trouth the Dark Portal into the shattered world of Draenor.