102,751pages on
this wiki
Talk

1
This article or section is a lore stub. You can help expand it by editing it.

You might want to work with the other users of WoWWiki in expanding it.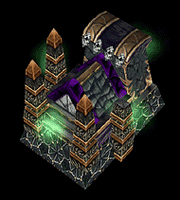 Tomb of Relics is a shop from which any unit that has an inventory window can purchase items. The items available are dependant upon what level of upgrade your necropolis has (Necropolis, Halls of the Dead, or Black Citadel) and what buildings you have. Heroes can also sell unwanted items to any item shop.[1]
References
Edit
External links
Edit

Blizzard Entertainment